Welcome to Ellistown Community Primary School
Dream, believe, achieve - the Ellistown way
Welcome to our school website. Here you will find all of the information that you will need about our school and see how proud we are of our learning.
Whether your child is starting school for the very first time or joining us mid-way through primary school, it can be a very unsettling time and so it is essential that you are fully informed and involved from the very beginning. Our prospectus along with any visits to the school aim to provide you with all the information and reassurance that you need during this time.
At Ellistown the staff and governors are committed to providing the very best education for all, having high expectations and aspirations for all of our pupils, both in and out of the classroom. Our main aim is to ensure that all pupils have the good care and provision that they need in order for them to achieve. With our school motto - Dream, believe, achieve ... the Ellistown Way - at the heart of everything we do.
Working in partnership with parents is essential to your child's education and well being during their journey through Ellistown. During your time as an Ellistown parent there will be many opportunities for you to take an active part in your child's learning.
If you have any queries or information that you would like us to include on our website or require a paper copy of any of the information included please contact the school office, who will be more than happy to help.
We very much look forward to beginning your journey with you and working together along the way.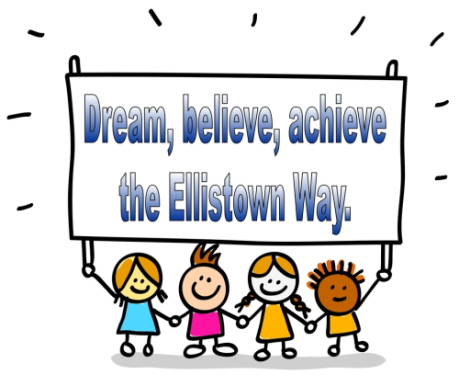 Quick links